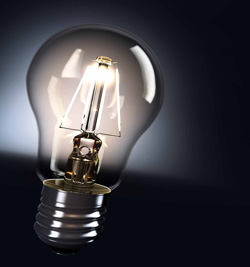 Picture: The new Soleriq L 38, for use in products with a traditional look.
Osram Opto Semiconductors GmbH of Regensburg, Germany has launched the Soleriq L 38, the first filament LED in the Soleriq product family.
With a long and thin shape (a length of 30mm and a diameter of 1.8mm), the LEDs provide the basis for filament-style lamps, and they match incandescent lamps in terms of appearance and emission characteristics. Soleriq LEDs deliver a uniform appearance in terms of color and can serve as a high-quality light source suitable for aesthetic lighting applications in homes, hotels and restaurants.
Similar to a conventional filament, the shape of the Soleriq LED – in addition to its 360° emission angle and light production quality – make it suitable for use in LED lamps of all wattages as it mimics the appearance of classic light bulbs. Soleriq L 38 LEDs are offered in different MacAdam groups based on color temperature, and they are binned at a temperature of 85°C, which closely approximates to the temperature in the application.
"Customers will benefit from these properties, particularly if they want to install multiple lamps or luminaires fitted with Soleriq L 38 in a room," says Martin Wittmann, marketing & business development manager for General Lighting. "Incorporating the LEDs in classic lamp production lines is simple," he adds. "With minor modifications to the manufacturing process, these LEDs can be installed in the lamp in the same way as traditional filaments." Additionally, sorting by forward voltage enables multiple LED filaments to be connected in parallel, resulting in reliable operation with no overloading of individual filaments, the firm adds.
The Soleriq L 38 offers high brightness, similar to all Soleriq products, and is available in three versions, with a luminous flux of 90, 130 or 140lm (and a forward voltage of 56–64V, 82–90V or 88–96V, respectively). These values enable all previous lamp wattages up to 60W to be replaced with equivalent LED filament solutions. The driver voltage needed for the LED filament lamps can also be adjusted. All the versions have a high luminous efficacy of 150lm/W and provide warm white light (with a color temperature of 2500-4000K). Due to a good color rendering index (CRI) of over 80, the Soleriq L 38 is suitable for indoor lighting, particularly in the home. The main applications include products with a traditional look and also modern interiors, such as classic clear glass bulbs with LED filaments